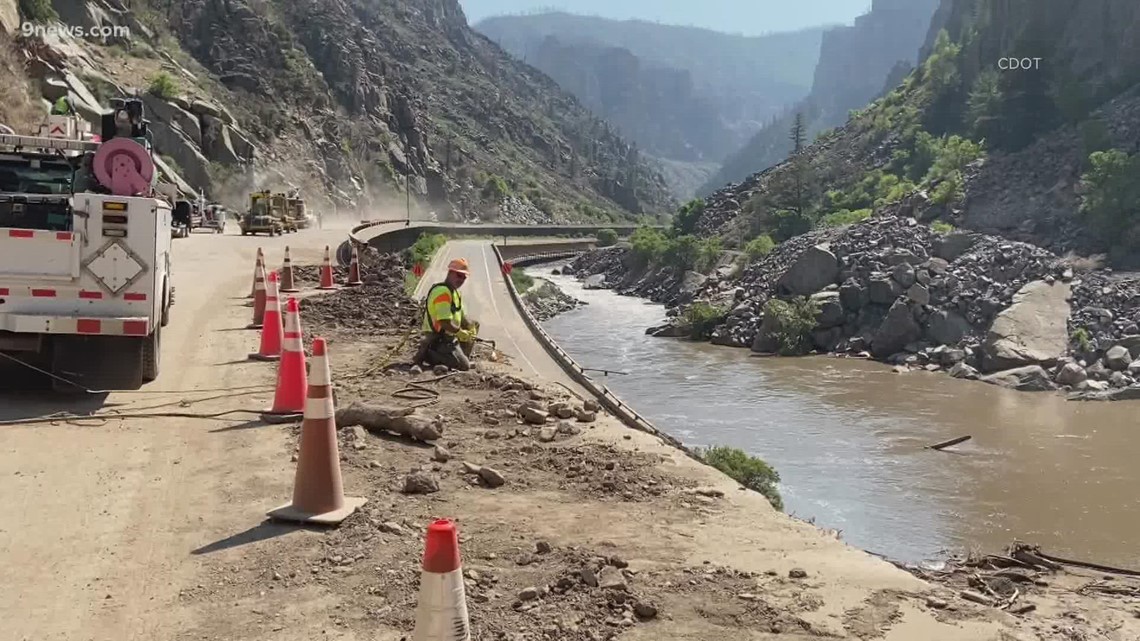 I-70 at Glenwood Canyon closes due to flash flood potential
CDOT said the area received significant precipitation Wednesday night but no new slides were reported.
GLENWOOD SPRINGS, Colo. — The closure of Interstate 70 through Glenwood Canyon that began around 4 p.m. Wednesday will remain in place Thursday due to an unusually high uncertainty with the forecast, CDOT said.
The Flash Flood Watch in place could turn into a Flash Flood Warning quickly, the agency said.
A slow-moving storm moved right through the flood-prone canyon on Wednesday, prompting yet another closure of the burn scar-affected stretch of highway. The area received significant precipitation since the closure Wednesday night, though no new mudslides or damage have been reported.
This is the first significant rain event since the major slides occurred in late July, and CDOT is closely monitoring Glenwood Canyon to assess how the canyon responds to the rainfall and saturation.
In the event that a new mudslide occurs or a significant amount of debris from the mudslide path blocks the interstate, the closure may become extended. Travelers should monitor COtrip.org for road closure information and continue to check the weather forecast before traveling in this area or through the mountains.  
The Grizzly Creek burn scar is located right near the highway, and burn scars are especially vulnerable to flash flooding due to the lack of vegetation to absorb moisture. As a result, flood-driven mudslides are common near or even over the interstate. 
If detouring, CDOT asked motorists to use the northern alternate route, which adds an extra 2.5 hours of travel time. 
Westbound motorists from the Denver metro area should plan on exiting I-70 at Exit 205 (Silverthorne) and traveling north on Colorado 9 toward Kremmling or exiting I-70 at Exit 157 (Wolcott) and traveling north on Colorado 131 toward Steamboat Springs. 
Travelers will then continue west on U.S. 40 and then south on Colorado 13 to complete the alternate route and return to westbound I-70 at Rifle (Exit 90). 
Motorists traveling eastbound from Utah or Grand Junction can reach the Denver Metro area by traveling the route above in reverse. 
A traffic control point is still in place at eastbound Exit 87 (West Rifle) to guide motorists to the northern alternate route.. Visitors and local traffic traveling eastbound to Glenwood Springs and destinations in the Roaring Fork Valley can continue down US 6 and enter back on eastbound I-70 at Exit 90 (Main Rifle), Exit 97 (Silt), or Exit 105 (New Castle).
RELATED: 1st snow of the season possible for Colorado's 14ers this week
RELATED: CDOT lifts I-70 closure through Glenwood Canyon 24 minutes after announcing it